When it comes to your child's early education, finding the best preschool in Udaipur is crucial. Kids Kingdom is the best play school in Udaipur, offering a remarkable blend of quality education, enriching activities, and a nurturing environment. This blog post will explore 15 compelling reasons why you would say Kids Kingdom is the best play school near me.

Educational Excellence and a Nurturing Environment

1. High Standards of Education:

At Kids Kingdom, we uphold high education standards, ensuring that your child receives a well-rounded and comprehensive learning experience. As the best preschool in Udaipur, we strive to provide every child with the best education and guidance. Our research-based curriculum equips students with the knowledge and skills needed to thrive in the modern world.
2. Ethical Values:

We foster ethical values such as love, care, and hard work, instilling these principles in our young learners at Kids Kingdom. This promotes character development, preparing children to become compassionate and responsible individuals in the future. Prioritizing the satisfaction of both the child and parent is our aim, as a result, most of our parents say that Kids Kingdom is the best play school near me.

3. Engaging Events and Activities:

We host a range of fun events and activities throughout the year, such as cultural programs and sports days. We even put on a puppet show to teach the children about our local Rajasthani culture at the best play school in Udaipur. These experiences help children develop self-confidence, improve their social skills, and make long-lasting memories.

4. Dedicated and Qualified Educators:
Our team consists of educators who are devoted and well-qualified. They have strong enthusiasm for offering excellent education and guidance to every child because they strive to create a caring and encouraging atmosphere, where every student can receive individualized attention and assistance.

5. Safety and Security:

The safety and security of your child are our top priorities at Kids Kingdom. We have implemented robust measures, including well-trained staff and comprehensive safety protocols, to ensure a secure learning environment.
6. Holistic Development:

We strongly believe in fostering the all-round growth of your child. To achieve this, we provide a variety of activities that stimulate their senses, engage them in educational games, captivate their imagination through storytelling sessions, and promote physical well-being through yoga.

7. Cultural Celebrations:

At our preschool, we believe in honoring and embracing the richness of different cultures and the spirit of national festivals. We aim to cultivate a sense of love for one's country and a strong bond of unity among our young learners. Through engaging activities such as flag hosting, singing national anthems, performing songs, and participating in skits, children have the opportunity to develop a deep appreciation for their heritage and traditions.

8. Play to Learn Philosophy:

Learning at Kids Kingdom is not confined to textbooks. We believe in a play-to-learn approach that makes education enjoyable and engaging. Instead of solely relying on traditional teaching methods, we incorporate interactive games, sand play, water play, and creative activities into our curriculum. Children acquire knowledge and understanding simply and enjoyably by exploring, experimenting, and engaging in play.

9. Emphasis on Creativity:

We understand that each child is unique and has a creative spark. That's why we provide various avenues for children to freely express themselves and explore their artistic talents. Through fun activities such as drawing, fancy dress competitions, and theme parties, we encourage children to let their imaginations run wild.
10. Building Confidence:

Through various events and activities, such as stage performances and role-playing, Kids Kingdom focuses on building children's confidence. By participating in these activities, children are encouraged to step out of their comfort zones and overcome any shyness or self-doubt they may have. We also emphasize developing effective communication skills, as these are essential for expressing ideas, thoughts, and feelings confidently.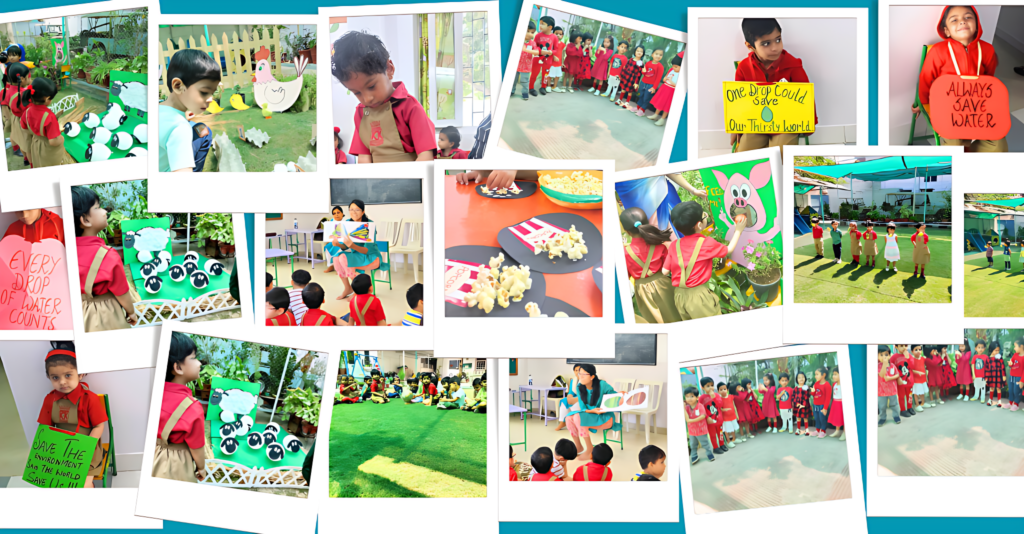 Parental Collaboration and Development

11. Parent-Counseling Sessions:

We recognize the importance of involving parents in their child's growth and development. So, we regularly organize parent-counseling sessions to offer guidance, support, and valuable insights into their child's progress. These sessions provide a platform for open communication between parents and our educators, offering them the knowledge to support their child's overall development.

12. Focus on Physical Health:

Physical health is vital for a child's overall well-being and learning abilities. Kids Kingdom places great importance on ensuring that children have optimal physical well-being, and to achieve this, we actively encourage and engage them in various physical activities including sports, yoga, and physical training (PT) sessions.
13. Language and Communication Skills:

Our emphasis on storytelling, recitation, vocabulary games, drama, and acting workshops enhances children's language and communication skills. We aim to foster a genuine love for language and literature by immersing them in these activities. These activities also help children improve their ability to express themselves confidently and effectively.

14. Strong Foundation:

Kids Kingdom lays a strong foundation for future learning and academic success. Our conceptual activities and focus on core concepts sharpen children's analytical thinking, problem-solving skills, and intellectual abilities. By emphasizing core concepts, we provide children with a solid foundation for understanding and exploring the world around them.
15. Joyful Learning Experience:

Above all, Kids Kingdom provides a joyful learning experience for your child. With a homelike environment, loving educators, and a wide range of fun-filled activities, we ensure that every child's time at Kids Kingdom is filled with happiness, growth, and endless moments of joy.
Why you should choose Kids Kingdom?

When it comes to finding the best play school in Udaipur, Kids Kingdom surpasses expectations with its commitment to quality education, engaging activities, and a nurturing environment. With dedicated educators, a holistic approach to development, and a focus on fostering creativity and confidence, Kids Kingdom will make you say it is the best play school near me. Enroll your child at Kids Kingdom, the best preschool in Udaipur, and witness their remarkable growth and happiness in a safe and nurturing learning environment.
Enroll your child today by calling +917737186521 or visiting our website at www.kidskingdomudaipur.com